AppForce.One, powered by ColorPlaza, has developed many Applications. On this Page you will get an overview in alphabetic order.
ColorChecker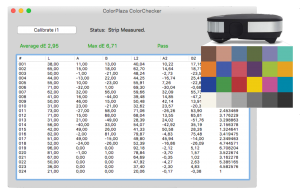 ColorChecker is a Mac OS App that uses an X-Rite One Pro Photospectrometer. With ColorChecker, a reference print can be scanned, and the result is then shown as a "pass" or "fail" together with the measured colors. It is the easiest way to verify the proper colormanagement of a printer. ColorChecker is available in the Mac Appstore here
DynaRaw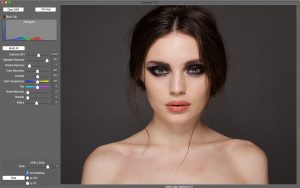 DynaRaw is a Mac OS Raw photo converter with an easy interface and Batch processing options, enabling large numbers of Raw files to be processed to TIF, JPG or even PhotoShop CC 2018. Unlike Raw converters such as in PhotoShop, DynaRaw is easy and intuitive to use.
Fine Art Print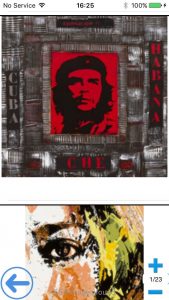 Fine Art Print is an iOS App to browse through and get a quotation for Digital printed Art. This App is developed for Gemini Systems GmbH and enables local Gemini customers to promote their own Art collection using a QR-Code. With the camera the QR-code can be scanned to install the App, and then using the App, the same QR-Code can be scanned to get access to the local Art Collection. The user can search by keyword, or Artist or orientation of the ArtWork. With a few clicks, a request for quotation can be generated, which the local Gemini Art On Demand store can fulfil.
i1deltaE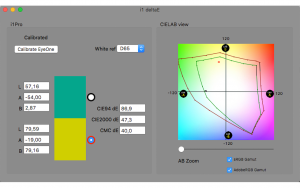 i1deltaE is a Mac OS App that uses an X-Rite Eye-One Pro Photspectrometer. Using i1deltaE, 2 patches can be measured and the difference in color (the delta E) is then shown. This enables the user to quickly measure the LAB difference between two colors.
pdq print software
pdq print software is a Mac App to drive large format printers. With an intuitive interface and advanced options such as nesting and color management, pdq is an App that makes printing a lot easier and more predictable than by just using a printer driver. Droplets allow batch processing of re-occuring jobs and by using the original manufacturer's drivers under the hood, pdq supports a large range of printers. The Lite version is free of charge and can be used for evaluation.
PictureMe
PictureMe is a Mac OS App for so called green screen photography. PictureMe supports tethering (taking a picture from within PictureMe and then transferring and processing automatically) and with just a few sliders, a colored backdrop can be replaced by a background of your choice. Built in face recognition takes care of scaling and positioning the people on the backdrop. Manually the user can adjust the scale and position. An overlay file with transparency can be used to superimpose over the image. The standard version offers output up to 1000 pixels, whilst the Pro version has no size limit, and allows the backdrop to be color adjusted per shot.
Titan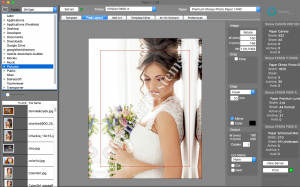 Titan is a Windows and Mac graphic front-end for Gemini 12, the High Quality Turn Key Print Solution for Photography and Art. Titan was developed for Gemini Systems GmbH as a user interface with powerful graphics options combined with intuitive easy control. From passport pictures to Wall filling Artworks, Titan makes creating these easy. An added functionality is Art On Demand, enabling the user to browse through a secure Cloud based Art collection, that can be ordered and then directly streamed from cloud to printer, keeping the original Artwork safe and eliminating the need to distribute the original artwork files. Users without their own printer can make use of Remote Printing capabilities, using the same powerful interface. Printjobs can be made production ready and sent through the Cloud. The receiver can print these jobs with a single click, adding the job to the production workflow. Titan is available for both Mac and Windows and can be downloaded on Gemini.Systems.
SlideShow Pro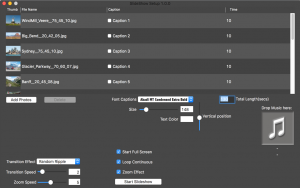 SlideShow Pro is a Mac App for showing 4K slideshows. Using 8 built in transitions, zoom functions and captions, a beautiful slideshow can be created from random images in seconds, and can be combined with backdrop soundtrack.
Trumpetize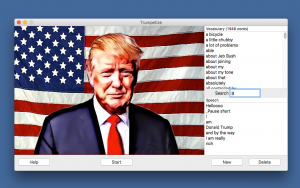 More or less as a joke, Trumpetize was developed for iOS and MacOS to make president Trump say even anything you want. Combine words and make your own sentences, spoken by an animated Trump.