ColorChecker
Controleer afdruk kleuren met Eye-One Pro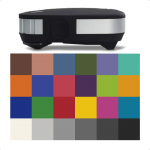 Discussies over of een afdruk "juist" is qua kleur komen regelmatig voor. Het menselijk oog is goed in het waarnemen van sommige kleurverschillen, maar erg onbetrouwbaar en subjectief in veel gevallen. ColorChecker biedt hiervoor een oplossing; print de controle strip en meet deze met de (niet meegeleverde i1 Pro van X-Rite) fotospectraal meter in.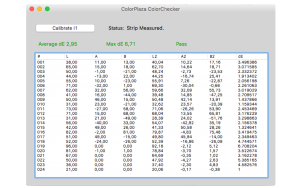 ColorChecker toont dan de afwijkingen per kleurvlak en geeft de gemiddelde en maximale kleurafwijking (delta E of dE). Een eenvoudige "Pass"of "Fail" melding maakt een einde aan de discussie.