PictureMe
Chromakey Event fotografie snel en gemakkelijk voor Mac en PC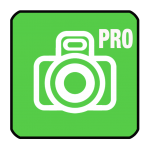 PictureMe is een App voor event fotografie met chromakey, ook wel bekend als Green Screen fotografie. Beschikbaar voor zowel Mac als PC. Met PictureMe binnen enkele seconden van foto nemen tot nieuwe compositie met custom achtergrond en overlay; Zie onderstaande animatie (zonder photoshop bewerking).
In versie 2.0 is de snelheid van verwerken drastisch verhoogd; een beeld wordt nu verwerkt in milliseconden in plaats van seconden. Hierdoor zijn de schuifregelaars nu "live"; het effect is vrijwel direct zichtbaar. Naast de veel hogere snelheid is ook de kwaliteit van chromakeying verbeterd; meer controle over de randen en differentiatie tussen verschillende tinten. (Het dragen van groene kleren op een groene achterwand betekent niet automatisch meer dat er gaten in vallen. In onderstaande video wordt getoond hoe PictureMe werkt.
PictureMe is compatible met Big Sur (macOS 11)
Lees deze post om het maximale uit PictureMe te halen of deze post om meer te leren over de mogelijkheden.
Twee Versies
Er zijn twee versies; PictureMe en PictureMePro 3,
Er zijn 7 verschillen;
Alleen de Pro versie staat achtergronden en uitvoer van meer dan 1000 pixels toe.  Met PictureMe Pro 3 kan elk formaat achtergrond en overlay worden gebruikt, en beelden worden verwerkt met een hogere resolutie (Megapixels)
Monitor Window: Dit extra venter is alleen beschikbaar in de Pro versie, en toont het resultaat. Dit venster kan worden getoond op een 2e monitor, gericht naar de mensen voor het green screen.  Hierdoor kunnen zij het resultaat zien zonder van het green screen vandaan te komen.
Direct Email: Alleen de Pro version heeft ingebouwde email, welke het mogelijk maakt direct vanuit PictureMe Pro te mailen, waardoor dit veel sneller en makkelijker gaat.
Direct Print: Met 1 klik kan de PictureMe Pro gebruiker een gecentreerde afdruk maken op ten voorgedefinieerd formaat. Ideaal voor event fotografie.
Grijs/Wit achtergrond vervangen: als een beta feature heeft de Mac versie van PictureMe Pro nu de mogelijkheid om foto's met een grijze of witte achtergrond te verwerken.
Antialiasing verbeteringen: De Pro versie heeft nieuwe antialiasing technieken, welke de kwaliteit verhogen.
Even ander klein verschil is de mogelijkheid om de achtergrond verzadiging, helderheid en contrast dynamisch aan the passen, voor meer dramatische effecten.
[ultimate-faqs include_category='picture-me-faq']


Veelgestelde vragen:
[ultimate-faqs include_category='picture-me-faq']
Heeft u andere vragen of opmerkingen? Laat het ons weten via het contact formulier