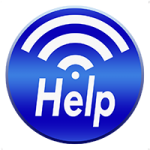 WiFi Help is een App die helpt bij het analyseren en oplossen van WiFi issues. Alhoewel de software de WiFi niet kan wijzigen, kan het wel helpen te begrijpen waarom er een probleem is en welk kanaal te kiezen om mogelijk het wifi signaal te verbeteren. Vergelijk een WiFi signaal met een radio zender; als er teveel op hetzelfde kanaal proberen uit te zenden, storen deze elkaar en maken ontvangst moeilijk. De kunst is een kanaal te kiezen dat vrij is, of op z'n minst een kanaal te kiezen waarop het signaal van de eigen router sterker is dan die in de buurt. Nog beter is een vrij 5GHz kanaal te kiezen, aangezien het makkelijker is om op 5GHz een vrij kanaal te vinden. Het voordeel van 5GHz is dat de kanalen niet overlappen, dus andere WiFi routers op een ander kanaal storen de eigen router niet tenzij ze exact hetzelfde kanaal gebruiken.
Om zo goed mogelijk te helpen met het kiezen van de best mogelijke verbinding, heeft WiFi Help een snelkoppeling naar de Router (om instellingen te wijzigen) en één van de beste snelheid test sites. Wanneer er WiFi wordt gebruikt op een MacBook, kan door het verplaatsen van de MacBook de beste plek voor het sterkste signaal worden gevonden.
Als de eigen router geen 5GHz ondersteund en er geen vrije 2.4 GHz kanalen zijn, of het signaal van de eigen router zwakker is dan nabije andere Routers, wordt het misschien tijd voor een Router update.
De ingebouwde gebruikers handleiding is te openen door te klikken op het blauwe Help icoon. Neem in geval van vragen gerust contact met ons op.
WiFi Help is beschikbaar in de Mac AppStore: